The Programs
Addressing the real issue of keeping the weight off.
Scientific research confirms what many people already understand from experience — that once the body loses weight, there is a natural tendency to put it back on. It's like pulling on an elastic band too hard so it snaps back. This, on a very simplistic level, is the idea of "set point" as it relates to body weight regulation. Our programs are designed to support weight management in a way that is consistent with the body's natural physiology.
Likewise, losing weight rapidly without fully developing the skills of lifestyle change is ineffective. Yet there is an abundance of schemes that continue to entice individuals with the promise of a "quick fix". Our programs have been developed with the goal of promoting the development of healthy lifestyle behaviors that include: eating and nutrition, physical activity, sleep, stress management and social connectedness — all of which are interrelated and need to be approached as such. Furthermore, these skills must be learned as a part of the active weight loss process in order for weight loss to be maintained.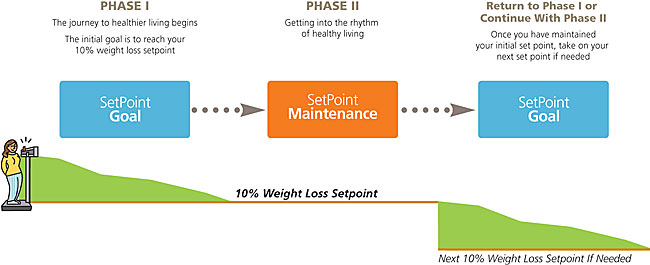 The "SetPoint Goal" program results in gradual and realistic weight loss that aligns with the body's natural tendencies. the "SetPoint Maintenance" program picks up where the Goal program leaves off and is designed to address the real battle of keeping the weight off.
We offer a wide range of service options to support patients in a way that meets their individual needs and circumstances. Through the strategic usage of the online tools and support, patients become proficient at integrating the skills of lifestyle change into their everyday lives.
Program features include:
Unlimited access to SetPoint Health Advisors
Great-tasting portion controlled foods used as part of a structured eating plan
Convenient program access via phone and web
Effective easy to use tools for self-monitoring and planning
Access to extensive educational resources developed by our team of experts
A wide variety of flexible options for extra support as needed